Optical Fiber Construction
Modern optical fibers are formed by two layers of glass. As shown in fig, the fiber core (8 μ m) is surrounded by a concentric core of lower index glass known as cladding (125 μ m).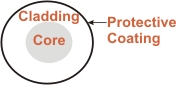 The cladding is surrounded by a protective layer. The total internal reflection occurs as the core-cladding interface. In fibers designed for high-speed telecommunication, the core is only a few microns in diameter, not much larger then the wavelength of the light used. In such cases, the full electromagnetic wave picture must be describe the propagation of the light. However, when the highest data transmission rate are not required, fibers with a "large" core of perhaps a hundred micron or more used such fibers are known as multimode fibers. For multimode fibers, ray, picture is adequate to describe the behavior of the light.