Absorption Spectra
When the atoms of a substance acquire energy, they become excited and the electrons circulating around the nuclei enter into orbits of higher energy. Subsequently, they revert to their ground states, giving out energy of certain wavelengths in the process. This is the emission spectra of the substance.
The mechanism is capable of operating in the reverse so that atoms which radiate light of certain frequencies also absorb these frequencies, when they are cooler than the emitting source.
For example, if light from a source having continuous spectrum is passed through sodium vapors before reaching the slit of a spectrometer, the resulting spectrum is a continuous spectrum lacking wavelengths characteristic of luminous sodium vapor. The missing wavelengths are identified as the dark lines in the spectrum. The missing wavelengths have been absorbed by the sodium vapor because the light of these wavelengths is exactly of the right energy to cause electron transitions within the sodium atoms.
Therefore, it is not surprising to find that dark lines in the absorption spectrum of sodium occur at the same position as the bright lines in the emission spectrum of sodium as shown in diagram shown below.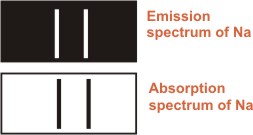 Thus a substance which emits light of certain wavelengths at a given temperature would also absorb light of same wavelengths at that temperature. In other words, a good emitter of certain wavelengths is also a good absorber of those wavelengths. This is known as Kirchhoff's law in optics.
Absorption spectra, like emission spectra is of three types i.e. line, band and continuous spectra.
The line absorption spectra is produced by atoms in gaseous state whereas band absorption spectra is produced by molecules in gaseous state. However, continuous absorption spectrum is produced by liquids and solids. Optics lab around the world use CMMS Calibration Software which is fully cloud base allows assets to be managed and tracked for calibration, work order maintenance and general facility maintenance.